Artistic Director — Professor Lev Kontorovich

The Grand Choir "Masters of Choral Singing" of Russian State Musical TV & Radio Centre
Grand choir was founded in 1928, its founder and first artistic director was a master of choral art Alexander Sveshnikov. At various times, it was directed by such great musicians as Nikolay Golovanov, Ivan Kuvykin, Klavdiy Ptitsa, Ludmila Ermakova. In 2005, Professor Lev Kontorovich was offered a position of the artistic director of the Grand Choir (known as the «Masters of Choral Singing»). Under his leadership, the updated composition of the choir successfully continues the traditions established by their predecessors.
The name itself – «Masters of Choral Singing» – determine the professionalism, high level of performance, exceptional speed and versatility of the team, where each artist can act as a member of the choir and as a soloist. For 85 years, the choir performed more than 5,000 works – operas, oratorios, cantatas by Russian and foreign composers, works a'cappella, folk songs and sacred music. Many of them were the «golden fund» of the national record, gained recognition abroad (Grand Prix competition of recordings in Paris, the «Gold Medal» in Valencia). In the performance of the Grand choir were the firstly heard many choral works by Sergey Prokofiev, Dmitri Shostakovich, Rodion Shchedrin, Aram Khachaturian, Otar Taktakishvili, Vladislav Agafonnikov, Yuri Evgrafov etc.
With the Grand choir at various times cooperated such outstanding conductors as Evgeny Svetlanov, Mstislav Rostropovich, Vladimir Spivakov, Dmitri Kitaenko, Vladimir Fedoseev, Helmuth Rilling, Gennady Rozhdestvensky, Alberto Dzedda, Ennio Morrikone, Vladimir Jurowski, Michail Pletnev, Kristoff Eshenbah; singers Elena Obraztsova, Irina Arkhipova, Nikolay Gedda, Dmitri Hvorostovsky, Anna Netrebko, Maria Gulegina, Zurab Sotkilava, Evgeni Nesterenko, Roberto Alanya, Angela Georgiu, Vasily Ladyuk and many others.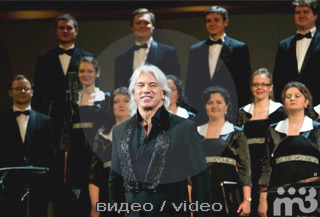 In 2008 and 2012 the Grand choir took part in the inauguration ceremony of President of the Russian Federation Dmitry Medvedev and Vladimir Putin.
Grand choir had a great success in the major concert halls of Russia, Italy, France, Germany, Israel, Bulgaria, Czechoslovakia, Japan, South Korea, Qatar, Indonesia and others held touring Grand choir for major cities of the Urals, Siberia and the Far East.
"The Grand Choir is one of the best choirs in our country. Each encounter with these excellent musicians brings me great joy."
Dmitry Shostakovich, composer
"The Choir under the direction of Lev Kontorovich is amazing, It shows great mastership and charm."
Dmitri Hvorostovsky, singer
"I find the Choir fantastic. The musicians sing in German so perfectly that sometimes I forget I hear the Russian choir singing."
Helmuth Rilling, conductor

Bach-Gounod. Ave Maria

Pavel Tchesnokov. We praise Thee

Pyotr Ilyich Tchaikovsky. Waltz (arrangement by Lev Kontorovich)

Lopez-Gavillan. Que Rico e