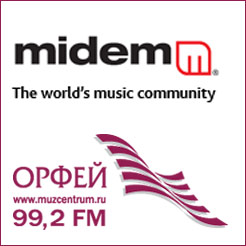 "Orpheus" Radio station has become a Jury member of the Midem Classical Awards. A few days ago our representatives for the first time attended the session of the Jury that took place in Brussels.
MIDEM is the world's largest music industry trade fair, which has been held annually at the Palais des Festivals in Cannes, France, since 1967.
This exhibition is a unique event, where music professionals from across the industry can share information and exchange contacts, show their new production and build partnerships. MIDEM brings together representatives of different Record companies, publishing houses, technological companies as well as CD and DVD producers, agents, promoters, organizers of festival programs, radio- and TV-journalists, online mass media and writing press from all over the world.
Due to international media coverage, a whole number of special cultural events and on-target advertising the exhibition becomes a unique platform for strengthening related company's image. MIDEM also gives opportunity to participate in a number of conferences and high-level meetings where it is possible to learn from the industry's senior experts.
In 2009 Russia was the guest of honour on this trade fair and for the first time Russian stars were given the right to open the gala night.
MIDEM Classical Awards is one of the most significant musical events that take place during MIDEM. In 2005 it replaced Cannes Classical Awards, and since then has become an exceptional launch pad for all the winning artists. MIDEM Classical Awards sets a mission to discover creativity, innovation of repertoire and artistic excellency for CDs and DVDs of classical music. For this occasion, a prestigious international jury made up of the leading music professionals from different types of mass media come together to recognise the top artists and recordings of the year.
MIDEM Classical Awards consists of a number of different nominations. For CD-discs they are:
·  Early Music: Music of any genre composed before 1600
·  Baroque Music: Any genre between 1600 - 1750
·  Vocal Recitals: Music for 1 – 4 voices with orchestra, Lied, melody, opera
·  Choral Works: Music for more than 4 voices with or without instrumental music
·  Solo Instrument: From any period for 1 instrument
·  Chamber Music: Music from 2 – 10 instruments
·  Opera: Including also operetta and zarzuela
·  Contemporary Music: Music not older than 25 years or from a living composer
·  Historical: First commercial CD release of a recording older than 25 years
·  Concertos: Work for 1 or more soloists with an ensemble
·  Symphonic Works: Any work with more than 10 players – without soloist
·  First Recording: First recording of a musical work
For DVDs:
·  Opera / Ballet
·  Concerts
·  Documentaries
The special categories are:
·  Cornelia Much, MCA chief in gala ceremony
·  Classical Download
·  CD / DVD: Jury Nominations
·  Artist of the Year
·  Lifetime Achievement Award
·  Label of the Year
·  Recording of the Year
·  Outstanding Young Artist, in partnership with IAMA.
Each country can be represented by more than one member organisation. In this case the single members from the same country must however represent different media (print, radio, TV or Internet). In 2009 "Orpheus" Radio station has become a Jury member of the Midem Classical Awards. It is undoubtedly a great achievement and our fierce pride, because it is "Orpheus" that was given the honour of representing our country from this media-sphere.
A popular French website www.resmusica.com has also become a Jury member this year. Among other member organizations there are a lot of printed magazines. They are:
·  «Crescendo» (France),
·  «Fono Forum» (Germany),
·  «Gramofon» (Hungary),
·  «Gramophone» (UK),
·  «Musica» (Italy),
·  «Pizzicato» (Luxemburg),
·  «Scherzo» (Spain)
The other Jury members are:
·  The International Artist Managers' Association (IAMA) – British Membership Organisation for Music Managements,
·  Monthly e-mail newsletter «IMZ Newsletter» (UK),
·  Online daily magazine «Klassik.com»,
·  German Radio station «Figaro»,
·  Radio «ORF» (Austria).
A few days ago our representatives for the first time attended the session of the Jury that took place in Brussels in Queen Elisabeth College of Music (Chapelle Musicale Reine Elisabeth). All the Jury members were invited to the concert of classical music to celebrate the 70-th anniversary of this educational institution.
The College was founded on July 11th 1939 in the presence of Queen Elisabeth and her son King Leopold III. The modern design of the building is uncomplicated and perfectly adapted to the needs and requirements of the students. The musicians have everything for a comfortable and efficient educative process: a reception room, a large dining room, individual small flats with a space for work, a bedroom and a bathroom. A large drawing room can be rapidly transformed into a concert hall. A beautiful park, where students can have a rest and get ready for creative work, is laid out around the College of Music.
Today 45 young musicians - four of which are from Russia - are proud to call themselves students of this noble educational institution.
The Queen Elizabeth College offers 4 study cycles, specifically designed to respond to the needs of the young musicians:
Preparatory Module of outstanding young talents (8-10 yaers)
Module for outstanding young musicians (11 to 15 years)
Advanced studies module (from 16 years)
Post-graduate module (typically +18)
The advanced cycle is open also to students over 22 who want to prepare for competition or to earn the "master after master" degree. 
The College of Music is an innovative and dynamic project, with an annual budget that in four years has gone from €300 000 to €1 600 000. It has several sources of finance: institutional financing, sponsors, private foundations, private sponsorship and cultural productions. Rolls-Royce, global financial services company UBS, largest service provider in Belgium Belgacom are among main sponsors of the College.
More information about this educational institution can be found on its website.
Links:
Chapelle Musicale Reine Elisabeth (website)