Artistic Director and Conductor - National Artist of Russia  Igor Oblikin.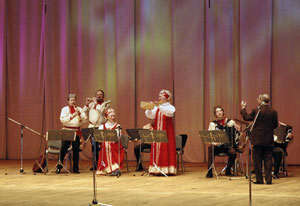 Finist-Balalaika is a wonderful example of Russian folk musical art, combining traditional and unconventional elements of professional mastership. The high creative potential of the band is defined by amazing originality in interpreting the pieces of music played and rare combination of fidelity to national traditions and constant search for new ideas and approaches.
The creative band plays Russian folk songs, instrumental miniatures specially composed for their soloists, pieces of classical music alongside with popular music of Russian and foreign composers.
The artistic director of the group is professor Igor Oblikin. He is widely known among those who are keen on Russian music as a talented composer and conductor.
The concerts of the Finist-Balalaika are colorful shows, the emotional impact of which is reinforced by fabulous costumes of the performers.